Roll over image to zoom in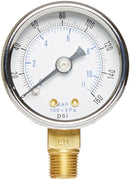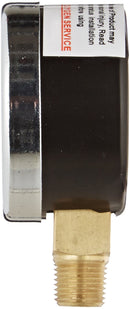 Description
One Compressed air gauge with 1/8" Male NPT Threads coming out of the lower side of the gauge.  This gauge will show up to 160 PSI and there is a mark every 2 PSI and shows the numeric pressure every 20 PSI.  The actual gauge is about 1.58" inches in diameter, and 1 inch deep with threads out of the side coming out approximately 5/8" of an inch.  This is a very good quality gauge that we ship in a box to prevent damage.
Specifications:
• 160 PSI 
• Mark every 2 PSI
• Numeric Pressure every 20 PSI
• 1.58" Inches in Diameter
• 1" deep
• Lower Side Mount


Payment & Security
Your payment information is processed securely. We do not store credit card details nor have access to your credit card information.