Roll over image to zoom in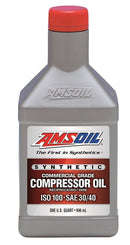 Description
Amsoil Synthetic Air Compressor Oil ISO-100 Commercial Grade 946 mL- 1 Quart Qt.
This listing is for one quart of Amsoil synthetic air compressor oil, this oil is ISO-100  / SAE 30/40. This is a high-quality synthetic lubricant specifically designed to meet the rigorous demands of industrial compressors and has up to eight times the service life of mineral oils. This oil is a premium synthetic, ashless, non-detergent, air compressor oil that helps prevent wear and corrosion. This is commonly used with reciprocating compressors, rotary vane compressors, pressure washers pumps, and vacuum pumps. This oil has up to 8 times the service life of mineral oils!
Specifications:

• One U.S. Quart (946 mL)
• Commercial Grade Synthetic Oil
• ISO-100
• SAE 30/40W
• Ashless / Non-Detergent 
• 8 Times The Service Life Of Mineral Oils
Payment & Security
Your payment information is processed securely. We do not store credit card details nor have access to your credit card information.