Roll over image to zoom in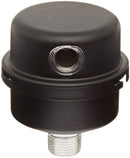 Description
This brand new Solberg Brand air filter housing with element is perfect for your compressor. The pipe thread which screws into the compressor head is 3/8" male pipe, and the dimensions of the housing are 2 1/8" tall and 2 1/2" in diameter. The element is a # 04 Solberg filter that measures 2 3/8" diameter and 1" thickness. This filter is designed for portable compressors. 
Specifications: 
Fully drawn weatherhood - no welds to rust or vibrate apart
Tubular silencing design - tube is positioned to maximize attenuation and air flow while minimizing pressure drop
Durable carbon steel construction with powder coated finish
Interchangeable elements
Ability to mount vertically, horizontally
Temp (continuous): min -15 degrees F; max 220 degrees F
Filter change out differential: 10"-15" in. H2O above initial delta P
Typical noise attenuation up to 15 dB's (due to wide range of applications and machines these units are used on, a single graph is insufficient). 
99%+ removal efficiency std: Paper = 2 micron, Polyester = 25 micron
Payment & Security
Your payment information is processed securely. We do not store credit card details nor have access to your credit card information.