Roll over image to zoom in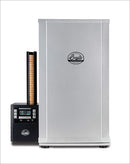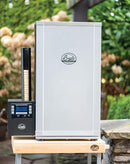 Description
Bradley Smoker 4 Rack Digital Meat Smoker BTDS76P
With 520 square inches of premium smoking area, this programmable smokehouse cabinet by Bradley Smoker (model Btds76p) gives you all the benefits of a traditional smoker with digital efficiency and convenience. The generation of the flavored smoke, the cabinet temperature, the duration of the smoking session – all are controlled digitally. The best fuel to burn in this futuristic smoker is Bradley Smoker bisquettes, wood chips pressed into puck-shaped lozenges, available in a variety of savory woods (oak, mesquite, cherry, etc. – sold separately). Pile a stack of bisquettes in the smoke generator's fuel tower; the bisquettes each burn for about 20 minutes; the longest smoke session you can program is approximately nine hours. Great for all kinds of meats, poultry and fish, you can even flavor nuts and vegetables to good effect. The smoker's 4 wire shelves are adjustable so you can utilize the entire cabinet area for smoking larger food items (the total interior height is 19 inches above the base drip tray). Simple to program, easy to operate, Bradley's attractive and practical home smoker cabinet has both E.T.L. and C.E. certifications.
Features
• The interior construction is polished, insulated stainless steel
• Digital interface
• Maximum Temperature of 280 degrees Fahrenheit
• Separate Burners for smoke and oven
• One-year warranty from date of purchase
• Internal thermostat
• Four fully supported, removable racks
• Up to 8 hours of no wood refilling
• Weight:61lbs
• Dimensions:19 × 22 × 34 in
• Interior Dimensions:15"W x 11.5"D x 25.5"HT
• Smoking Area:19" HT useable smoking area above drip tray
• Rack Area:572sq" (4 x 11 x 13)
• Interior Construction:Polished Stainless Steel
• Exterior Construction:Powder Epoxy Steel
• Cooking Area
• Cooking Elements Watts:500
• Smoking Elements Watts:125
• Power:120 V 50 – 60 Hz, 5.5 Amps (European: 240 Volt – 50 Hz) ETL & CE Listed
• Maximum Temperature:280°F
• Minimum Temperature:Subject to ambient temperature
• Digital Control: Smoke, temperature, time
• Racks Capacity:4 racks (11" X 13" cooking space each)


Payment & Security
Your payment information is processed securely. We do not store credit card details nor have access to your credit card information.