Roll over image to zoom in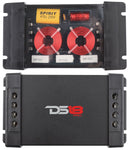 Description
DS18 Pro - PRO-CFX Crossover
With DS18's PRO CFX, you can make your own passive setup and use the speakers of your choosing for an amazingly full sound. This is a 2 way passive crossover that lets you choose a mid-woofer 8" and under for the midrange and a tweeter for the high range. The crossover is rated for 300w RMS so you will be able to get great sound at a high volume with great frequency crossover point accuracy. These are the perfect addition for anyone looking to add a passive crossover utilizing only 1 channel on your amp and separate a full range signal for both components. These are Two-Way Passive crossovers manufactured by DS18.  The upper cover is made of steel, and the lower cover is made of plastic.  Read the specifications below for more information.
Specifications:
• 2-Way Crossover
• High Frequency and Low Frequency
• Upper Cover: Steel
• Lower Cover: Plastic
• Frequency Crossover: 3.5kHz
• Dimensions: (Inches) 6.25"x 3.5"x 1.5"
• Dimensions: (MM) 160mm x 88mm x 38mm
Payment & Security
Your payment information is processed securely. We do not store credit card details nor have access to your credit card information.